Meidea has collaborated with Olimpias from 2011 to 2013 in the research of sustainable materials for a new creative applications on labels design. A long term project for seasonal label collections, graphic design, booth and visual communications.
Consultancy for Olimpias in labels design and creative application of sustainable materials:
Concept story linked to the seasonal lifestyle
Inspirational mood boards
Keywords
Labels Collection in sustainable materials and processes
Labels catalogue: design and realization
Booth Design: advertising, visuals and stand design
The labels collections curated by Meidea:
---
Olimpias labels collection – Spring Summer 2014
Olimpias is active in the research and implementation of innovative solutions in order to develop a fashion industry that cares for environmental issues. In addition to a photovoltaic installation, it is also provided with a cogeneration plant, that simultaneously generate electricity and heat from waste water and flue gases. This way, it's possible to reduce CO2 emission and it makes the factory self-sufficient. The combination of renewable power sources, selected raw materials and eco-friendly production processes confirms Olimpias as one of the players committed to execute ideas and goals for an eco-sustainable planet. 

The main concept of spring summer 2014 labels collection. Concept, story telling and keywords by Meidea.
Booth design
From virtual 3D to the staging at the fair
Along with the graphic design, Meidea developed the best image coordination between product, corporate image and set-up.
From the project, to the realistic 3D simulation to the final on-site assistance with booth builders , Meidea Team followed all the steps to create the best high quality display ensemble.
The booth at MilanoUnica Spring Summer 2014. All the visuals, keywords, design and merchandising realized by Meidea Team for Olimpias complete the label project. The visual communication follows the main concept of sustainability in materials and processes.
Advertising and communication
---
Olimpias labels collection – Fall Winter 2013-14
The Fall Winter 2013-14 season is developed in 8 themes: Green Cottage, The Climber, Country Gentleman, Blue Utility, Manifesto, Pop Corn, Filigrana, Nocturnal.
The labels and hangtags are produced with eco-sustainable processes, materials OEKO-TEX STANDARD 100 CLASSE I.
The Catalogue Fall Winter 2013-14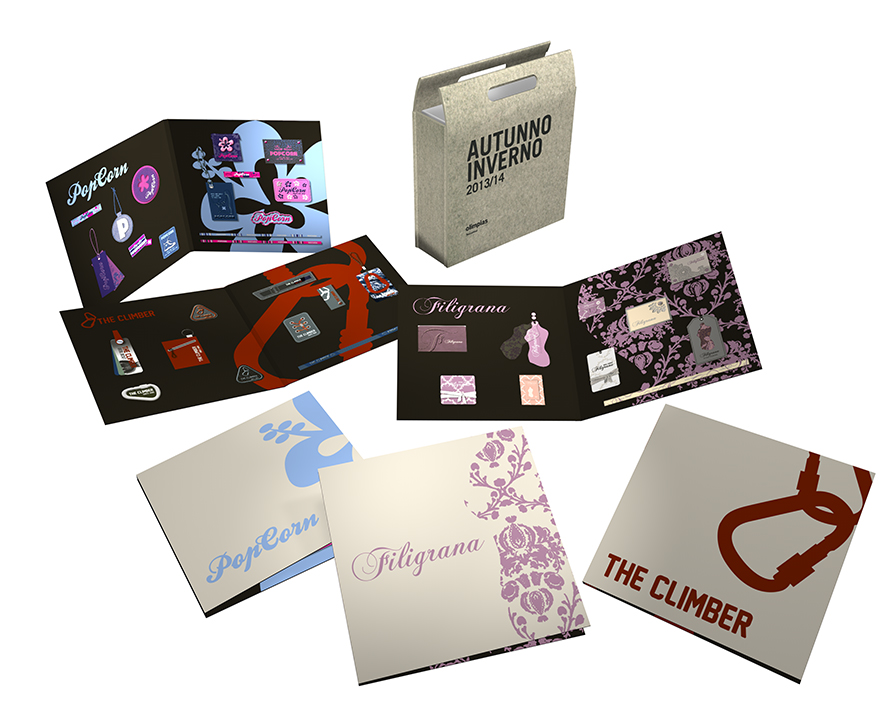 Booth design
From virtual 3D to the staging at the fair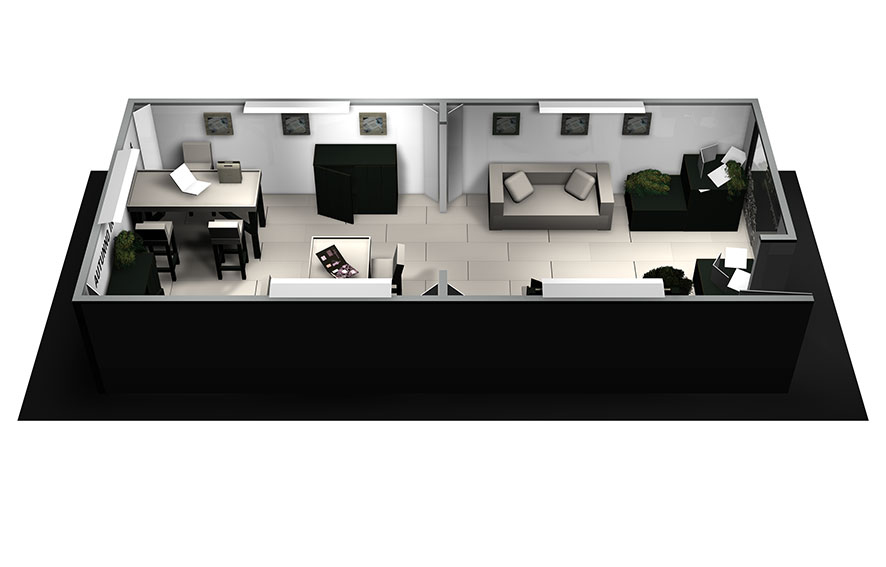 ---
Olimpias labels collection – Spring Summer 2013
The study of the package
The way we represent a concept or a product is the key to unlock the door of collection's success. The visual storytelling, the words and pictures that express the work are to be considered at the same level as production. With this aim the Meidea Team studied the packaging of Olimpias' spring summer 2013 collection. The Catalogue folder is designed to be a functional bag in recycled polyester like the labels presented inside the main catalogue.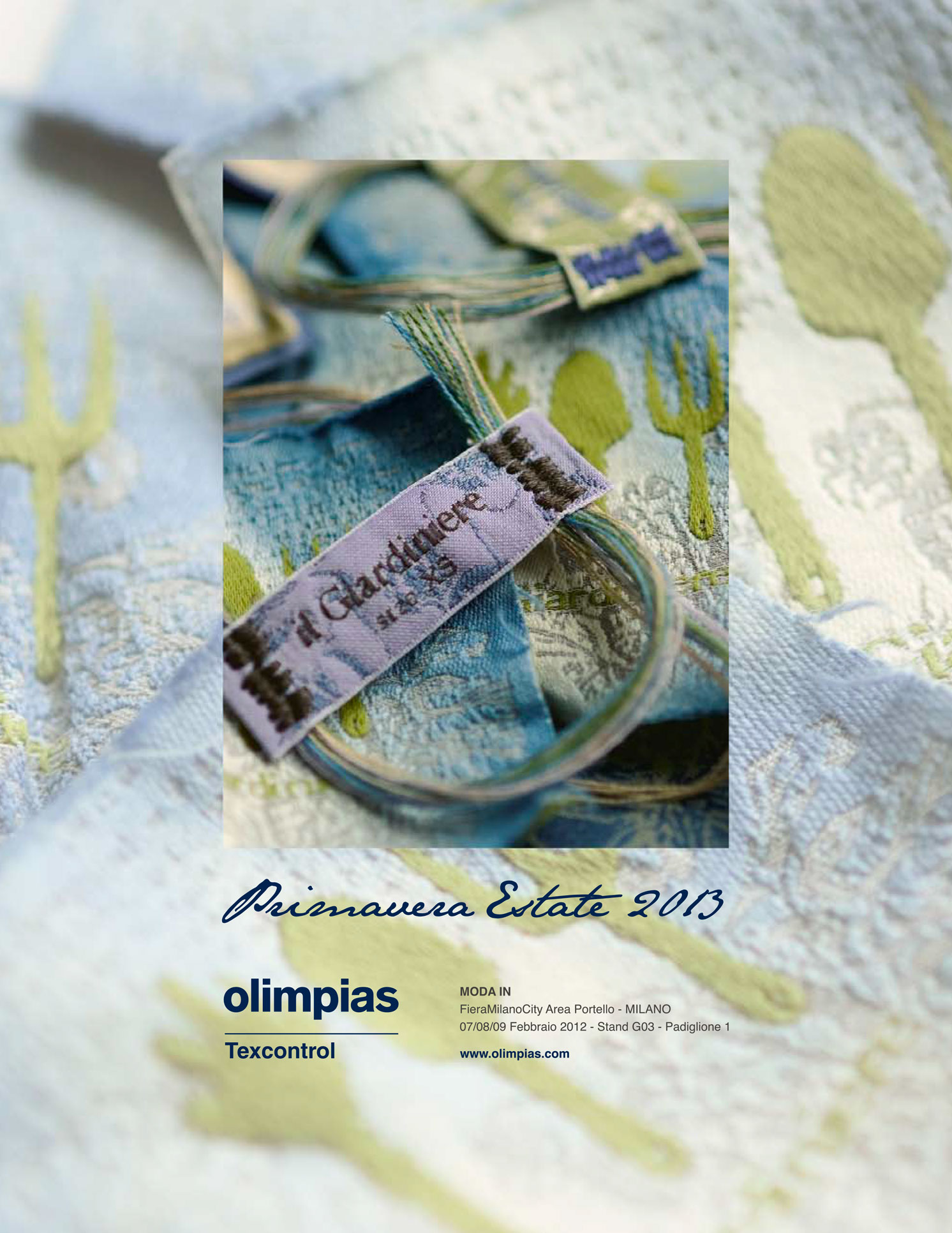 The Advertising
Advertisings and merchandisings for Olimpias Spring Summer 2013. Still life photography of the labels, photo editing, layout, executive file for print.
The labels collection: pictures from the catalogue presentation
Booth design