A summary of our collaboration with Denim Première Vision and trend seminars developed from 2018 to 2021. In this article we will present all the conferences and seminars that have outlined the trendy cuts, silhouettes and outfits in the world of denim.
Meidea worked in synchrony with the Denim Première Vision team at every stage of development to be aligned in the general macro trends, color charts and keywords to be integrated into the trend seminars developed during these 3 years of teamwork.
Discover all the creation's phases of our trend seminars: starting from the analysis of fashion shows and lifestyle trends, passing through the design of the outfits to the creation of moodboards and strategies for reading future trends in the world of indigo.
Through face-to-face lectures, online and live streaming, each seminar clearly presented the fashion directions in the future of denim. Real capsule collections represented by drawings handmade by our team and graphic materials, videos and original contents from our archive.
Timeline of our trend seminars for Denim Première Vision: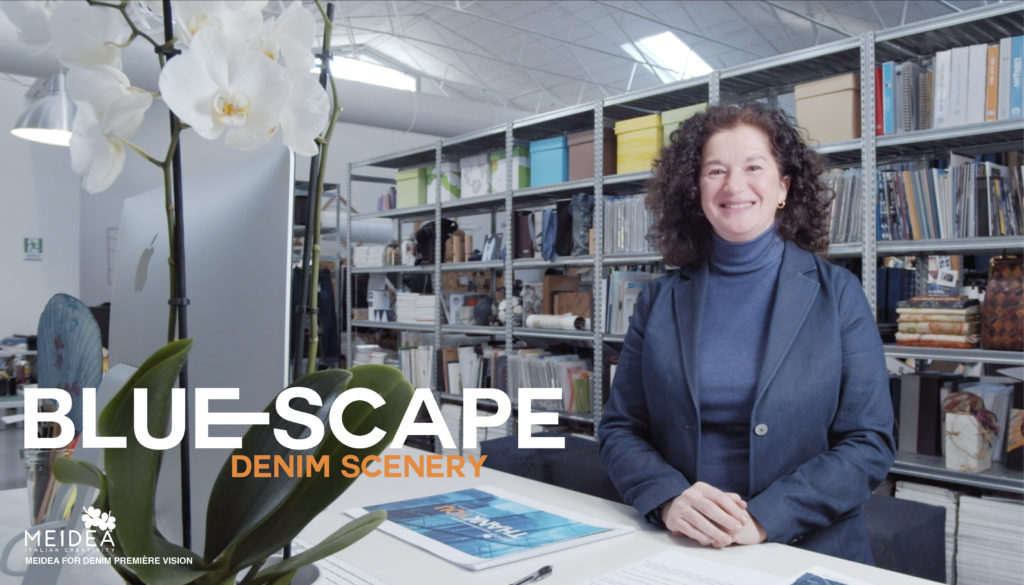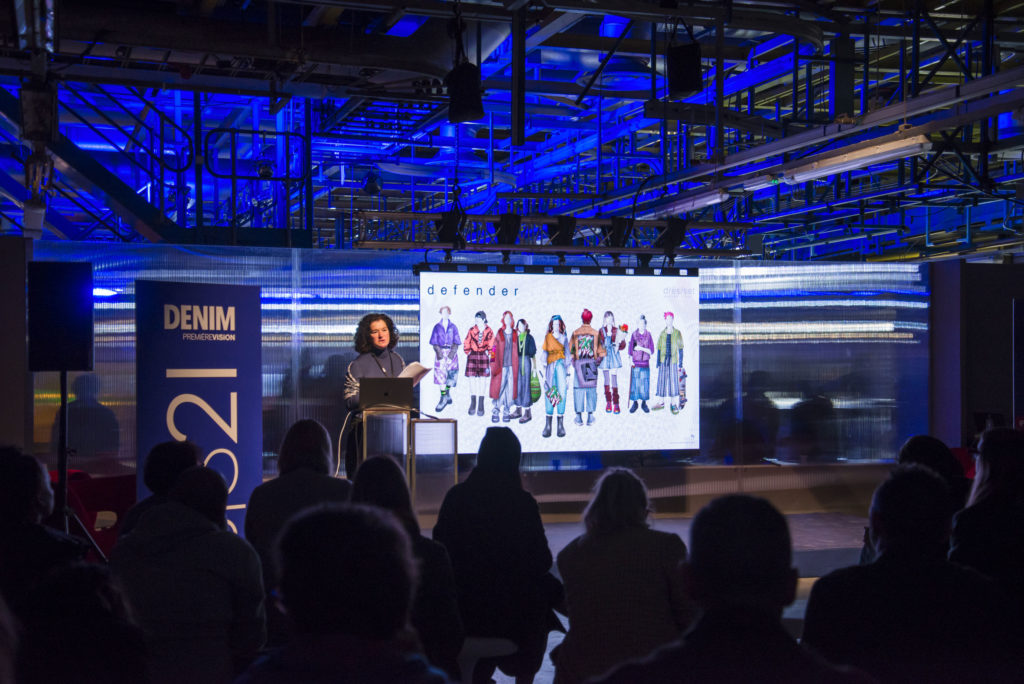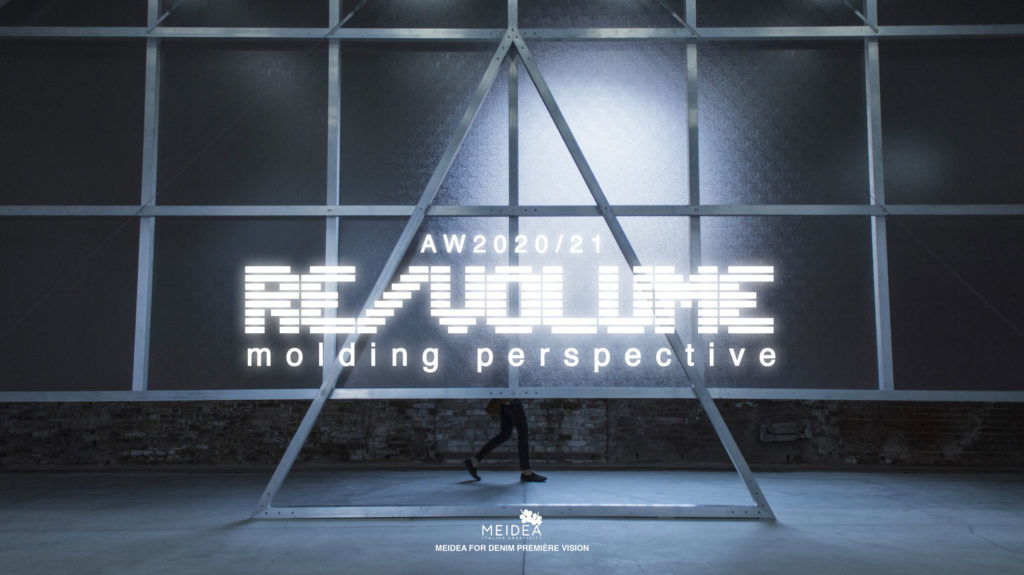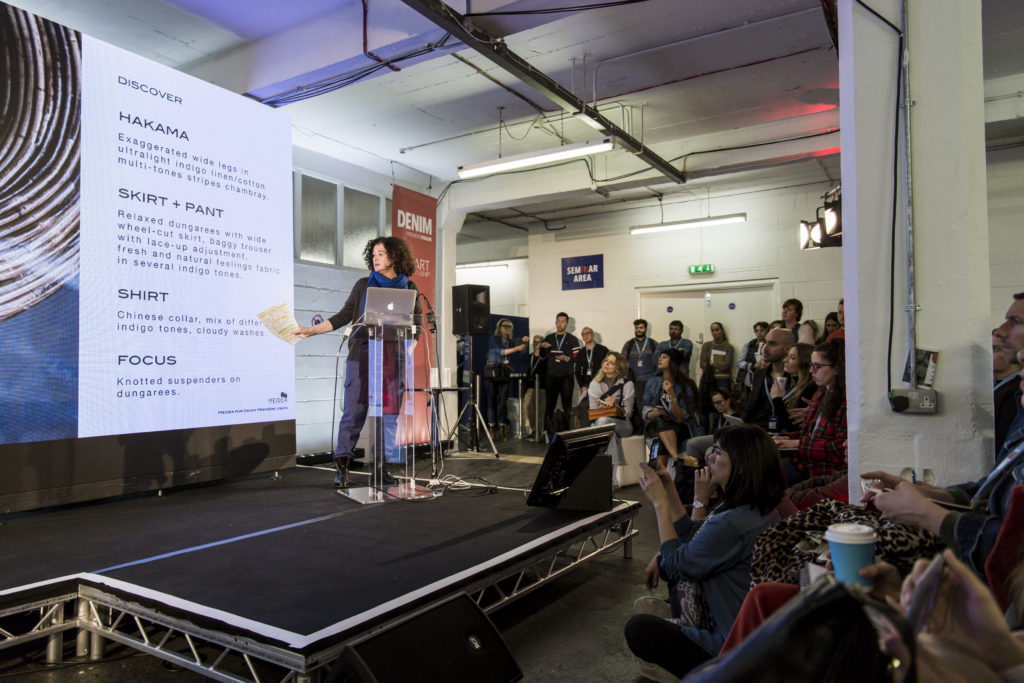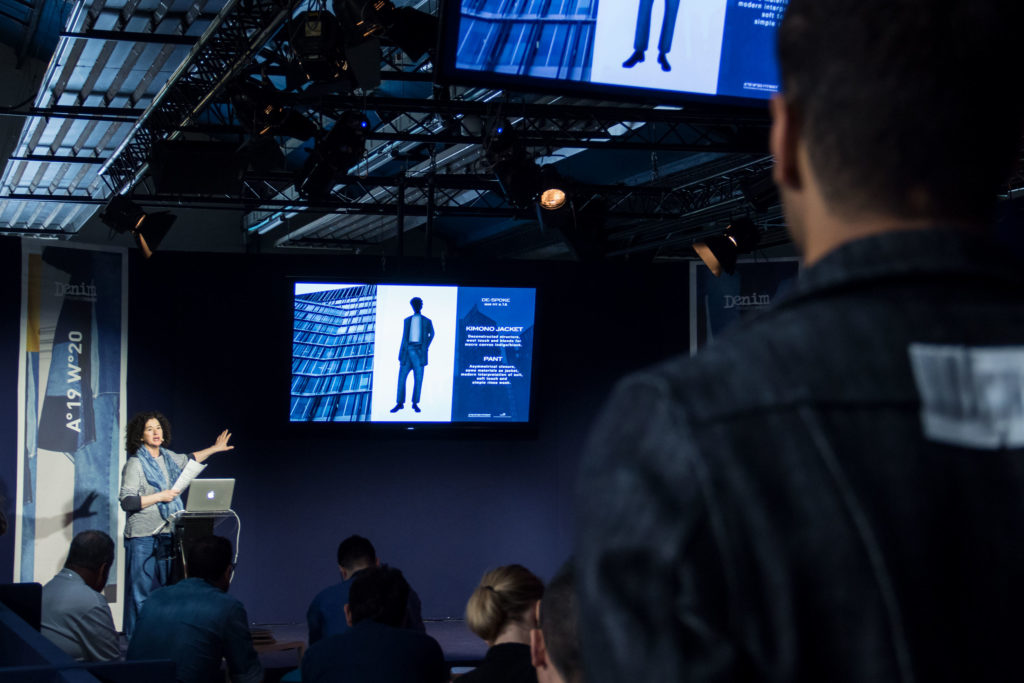 Trend seminar services for Denim Première Vision
Concept story linked to the lifestyle of the season
Denim trends analysis and creation of mood boards
Keyword
Capsule collection with hand-made drawings of the outfits
Presentation of the trends: seminar at the fair held by Lucia Rosin. Digital presentation with only original photographic and video contents
---
FITWAY: Coordinates for new shapes AW 19-20
A recap from Meidea trend seminar dedicated to trend outfits autumn/winter 19/20 held by Lucia Rosin in Paris during the Denim Première Vision.
Download the Highlights document of our trend seminar for A/W 19/20 season
The outfits designed and digitally processed by our Team are contextualized in the general concept through 5 trend themes. Each outfit is accompanied by keywords, mood photos of personal research and focus on the stylistic details of the clothing items.
---
FITWAY: Shapes Explorer SS 2020
Essential fashion guideline document of the season: the Spring Summer 20 fits and outfits. A recap from Meidea fashion seminar held in London during the Denim Première Vision.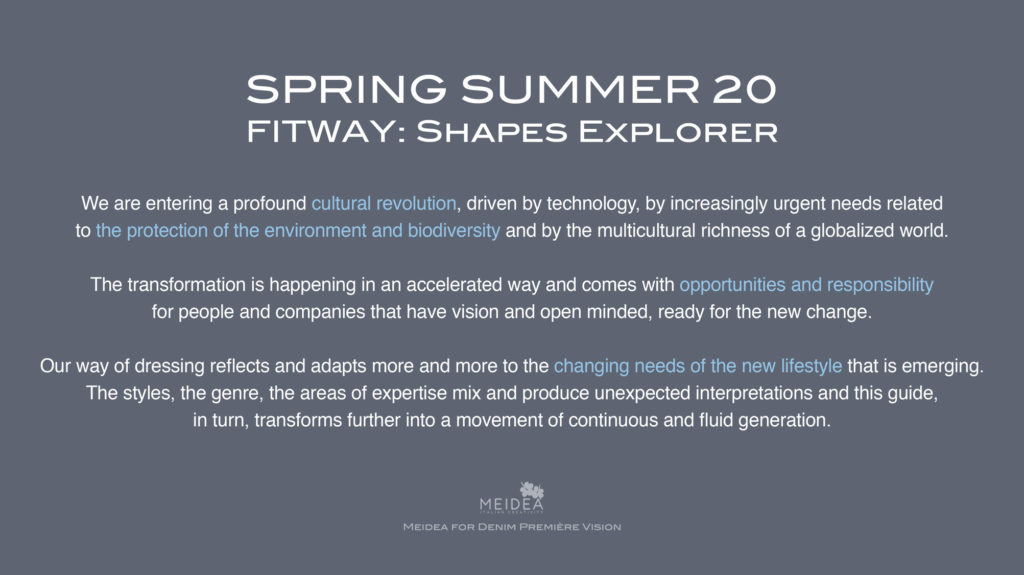 Download the Highlights document of our SS 2020 seminar
The outfits designed our team have been digitally edit in illustrations with the inclusion of fabric textures, details and finishes linked to the general concept in terms of aesthetics, concept and color. During this seminar on the denim trends for spring/summer 2020 season, Lucia Rosin presented each outfit divided into 4 main themes: CARE & SHARE, DISCOVER, PERFORMANCE, PERSONALIZATION. Each outfit is accompanied by keywords, mood and photos from the Meidea archive.
---
RE/VOLUME: Molding Perspective AW 2020/2021
The upcoming fashion influences will experience an exciting transformation dictated by ever more performant and technical materials. This will change the face of products and style as we know them. Evolving from the latest seasons, utility and multi-functionality, a major trend, are taking actual shape. The new silhouettes will get a boost from hybrid solutions, featuring a mix of volumes and functions. They'll even transform fashion architectures. High-volume garments will expand their space with a pop-up effect, and will be tailored to individual needs.

The new season will also see a new awakening in digitalized consumers, who pay attention to technological and environmental issues. Their power and enthusiasm will stimulate and open new fields and experimental fields of research. The Re/volume zeitgeist will emerge in new values and Re/volutions

RE/VOLUME Trend seminar presentation at Denim Première Vision website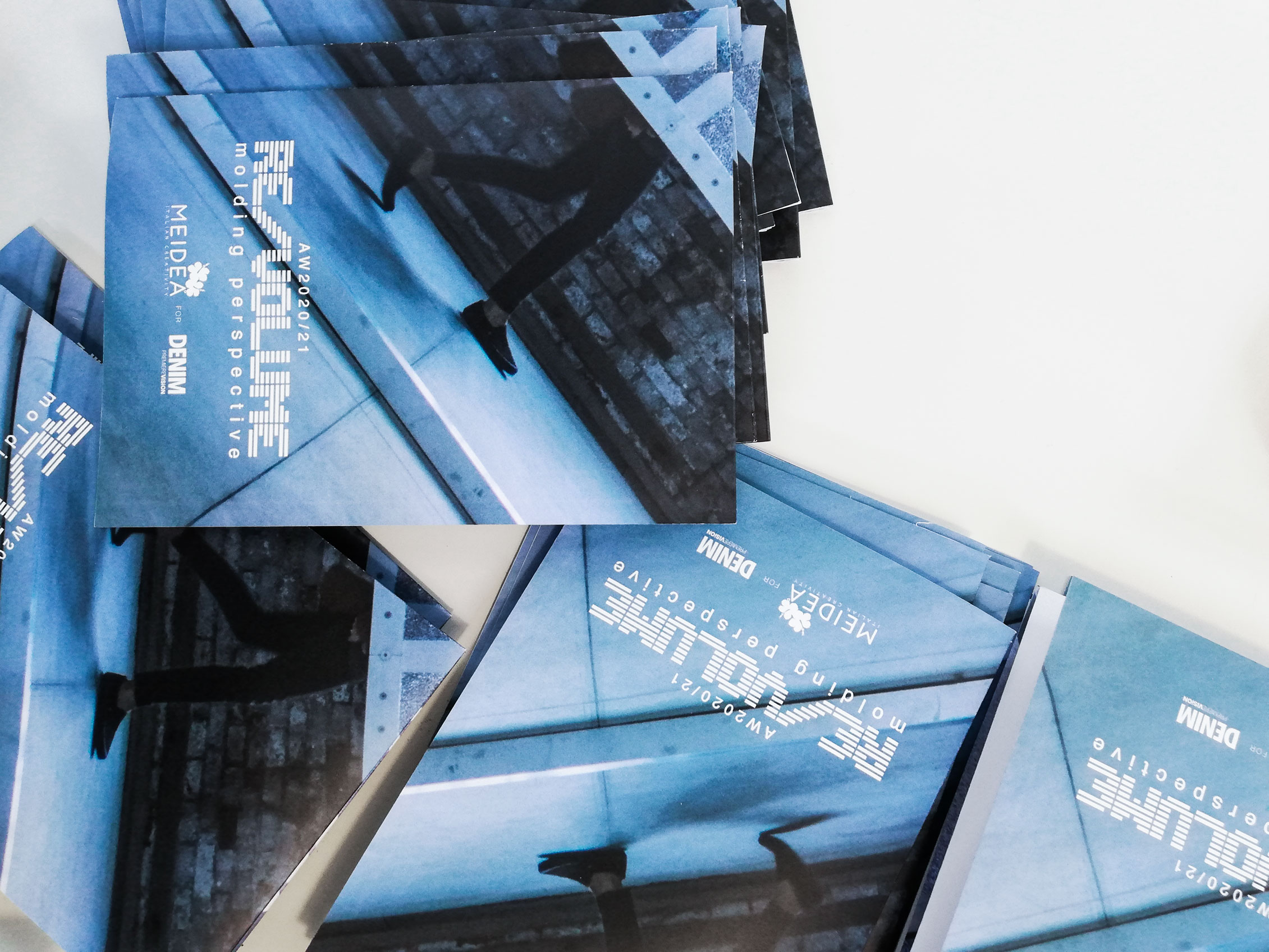 The RE / VOLUME flyer containing the AW20 / 21 trend guidelines and shared at the fair during our seminar .
Essential guide to the trendy outfits of the Autumn/Winter 2020/21 season. A summary of our trend seminar held in Milan during Denim Première Vision.
In the video of our trend seminar at Denim Première Vision in Milan in May 2019, Lucia analyzes the outfits and denim volumes of the AW 20/21 season. In the presentation there are only unpublished contents: from the drawings of the outfits to the photos, each material is original and collected by the Meidea Dream Team.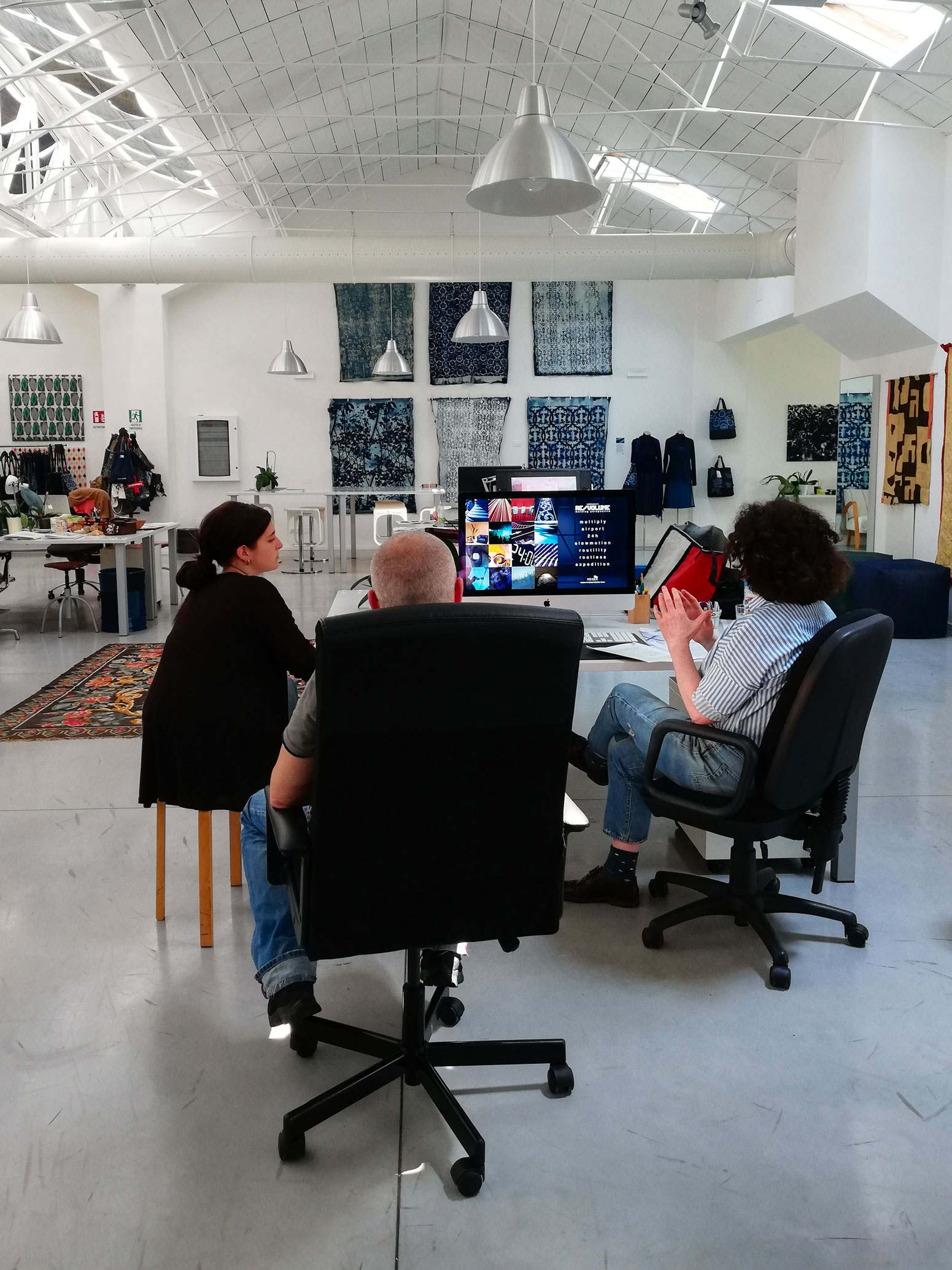 The whole Meidea team was involved in the realization of the seminar, from the analysis of the fashion shows, to the creation of the outfits up to the photographic shots for mood boards and final presentation. In the photo: the moment of the presentation's review of RE/VOLUME.
---
DRES/SET: Skilled Lines SS 2021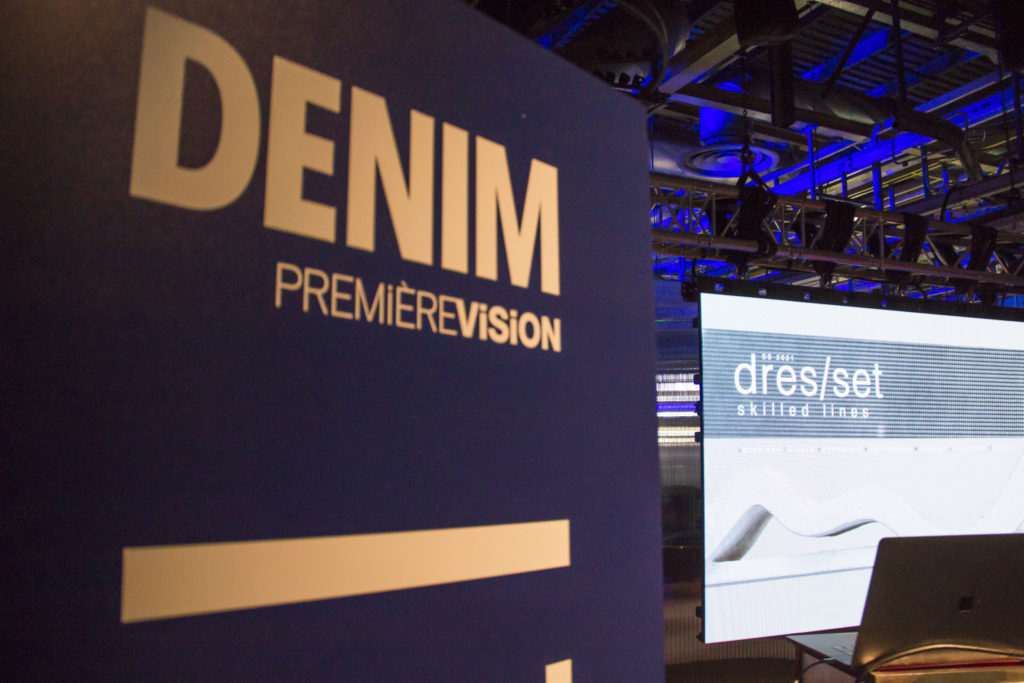 A trend report dedicated to the season's silhouettes and outfits: a way to address denim trends with a focus on lifestyle, cuts and shapes.
Lucia Rosin from Italy's creative studio Meidea breaks down spring-summer 21 fits and outfits along 7 fit concepts.

Denim Première Vision
Watch now the full video stream of DRES/SET trend seminar:
---
BLUE-SCAPE: Denim Scenery SS 2022
The online event will be a week-long digital show designed for the Denim Première Vision community, featuring: Talks, led by denim experts – Trends, for Spring Summer 22 – Networking, in just one click – Sourcing, for your denim collections.
In this experience, the Meidea team expressed the main guidelines for outfits and silhouettes of Spring Summer 2022 season. Future denim trends in BLUE-SCAPE are expressed through 5 fundamental themes linked to contemporary lifestyles: Leisurewell, Creatorya, Blue Rise, Humanet, Elemental. Each mood board is matched with the keywords that identify its style inspirations and it is completed by the selection of outfits hand-drawn and digitized by our staff, with photos, textures and details of our travels and archives.
Il concetto Blue-scape:
In nowaday's hyper-connected world, in this new reality we are living, we seek relief through the breath of nature, we encourage greater inclusivity and collaboration. We need more empathy with the human community and the Earth. Wellbeing has become a fundamental value to balance the impact of increasingly over-active lifestyles; we find relief to burnout in landscape and nature. We have increased our focus on health, in an attempt to prevent and protect ourselves against stress, air pollution and bacteria.
For this reason, in order to conceive a well-made design, future creations will embrace the concept of biomimicry with the human touch and the digital sign. Modern denim is inspired in its design by these multiple directions, for which digital technology is a source of empowerment and revolution. The new denim landscape is full of inspiration, it is regenerating itself and taking on a new momentum, for a new blue renaissance.
---
What they say about us and our trend seminars